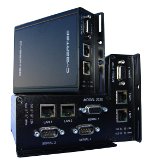 Feature Product
Series 2000 3G Modem / Router
The Series 2000 3G/NextG modem is Cybertec's 3G industrial communications solution.
Designed and manufactured in Australia in direct consultation with industrial end users, Cybertec modems provide a flexible and reliable communications platform for interfacing with both Serial and Ethernet enabled devices.
Housed in a small, robust and rugged enclosure, the Series 2000 Modem/Router can be mounted stand-alone or secured with the DIN Rail mount for greater flexibility.
See the product page for more information