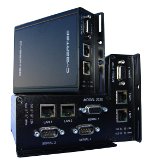 News
Firmware Release - Model 2150/2250 - Version 1.6.1.0
1st November, 2013
Firmware V1.6.1.0 is available for the Series 2000 (Models 2150 & 2250) 3G Modem / Routers.
Features included in this release:
SCEP Support
Enhanced AT support
IPsec - Enhanced tunnel configuation modes
Full details of the release are contained in the release notes included in the firmware release download.
New Product Release - SMM 200 3G Modem
1st November, 2013
The Cybertec SMM200 3G modem is the younger sibling to our Series 2000 3G Modem/Router. It is designed to provide a reliable and robust 3G connection for situations when the advanced features of the Series 2000 is not required.
Product highlights included:
Small and rugged enclosure
1x RS232 Serial Port
1x 10/100 Ethernet Port
10V-30V DC Power Supply Input