Products
Designed and manufactured in Australia in direct consultation with industrial end users, Cybertec modems provide a flexible and reliable communications platform for interfacing with both Serial and Ethernet enabled devices. Their advanced routing features include but are not limited to Network Address Translation (NAT), stateful firewalls, GRE Tunnels and static and dynamic routing. Extensive VPN support includes IPsec and OpenVPN (SSL) VPNs.
Standard on all models are two Ethernet ports, eliminating the need for an external switch in applications where a remote LAN is made up of only one or two devices. As Serial hardware connectivity with devices such as RTUs and PLCs remains a key application for many customers, all Cybertec Modems include at least 1 RS232 port (with select models providing up to 3 ports). These ports may be used as a drop-in replacement for dial-up modem emulation in either IP or circuit switched data modes.
Cybertec Modems are all housed in a small, robust and rugged enclosure. They can be mounted stand-alone or secured with the DIN Rail mount option. Power supply for the devices operate from a wide input range from 10 VDC to 60 VDC.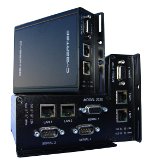 The Cybertec Series 2000 3G/NextG modem is Cybertec's current 3G communications solution. Each model in the Series 2000 range has two variants. The 'W' variant (which functions on the 850MHz/2100MHz bands) and the 'E' variant (which functions on the 900MHz/2100MHz bands)
Legacy Products